Best Mehndi Songs of 2017 – The Ultimate Dance Playlist
Farhat Aziz, 3 years ago
6 min

read
Wedding season is upon us yet again. That means a lot of food, running after the darzis (yes, it's a real thing in Pakistan during Eids, & Wedding seasons) & lastly dances on Best Mehndi Songs. A LOT of dances, to be precise! No desi wedding is complete until every single person of your family from dulhan k abba to dulhan ki phupho shows their skills.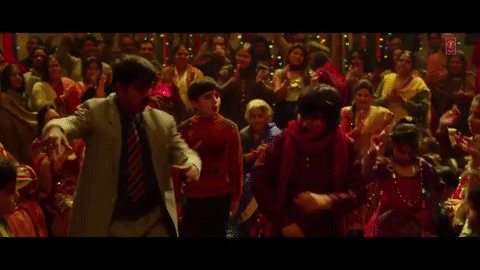 Weddings are a grand affair in Pakistan, and Mehndi ki raat specifically is everyone's personal favorite because well, who doesn't like dancing? It's a night of singing, and dancing where relatives of every age group flaunt their skills on the dance floor. Break out all your favorite shaadi classics that never grow old, or dance to the latest mainstream hit tune but make sure you stream blasting music on the stereo.
To save you the hassle of sorting the Mehndi Songs List, we have compiled a complete list of all the songs that would instantly get you in the mood– from the classics our parents love, to the latest dance beats. So, get those Mehndi vibes going with the ultimate Mehndi playlist that will definitely make you shake a leg.
Ultimate Mehndi Songs List to Groove
Billo Ni Tera Laal Ghagra
We bet you knew this was coming. Billo is one of the best songs to play at any wedding function, let alone a Mehndi night. This Punjabi number has now become a classic of sorts, and has been popular for almost a decade now.
London Thumakda
Know that one song that even gets the aunties grooving as well? Even the aunty who wasn't excited to be at the function in the first place? London Thumakda is that song. This song promises to get everyone dancing, try it!
Kala Chashma
If you got the moves, flaunt them and get your dancing game on to one of the most popular songs of the past few years. Find any wedding playlist, and you would find Kala Chashma there. Literally every wedding I have attended this year played it, and I am pretty sure this fabulous dance song is going to get everyone on the dance floor in future as well.
Shakar Wandaan Re
Whether you can recreate the magic that Mahira Khan, Sheheryar Munawar and Adeel Hussain did in the song, it doesn't matter because we have already seen this song play in every desi wedding out there and safe to say, it's a treat to watch, well at least most of the times.
Mehndi Tan Sajdi
A classic that everyone loves! This song is very old school and a must to blast at every Mehndi especially for all the mothers out there.
Lathay di chadar
This one is also a no brainer because where there's a Mehndi, there's lathay di chadar to make it infinity times more beautiful. Give your Mehndi night a distinct Punjabi feel by adding this classic to your playlist.
Chitta Kukar
When it comes to the old Mehndi tappay, nothing quite beats Chitta Kukkar Baneray Te. Whether it's the original song, or some of the newer remixed version, this song is on every wedding playlist and an emotional outburst is guaranteed.
Mehndi Laga K Rakhna
From the cult classic Dilwale Dulhaniya Le Jayenge, this Mehndi song is perfect to have some fun. That one song we all want to play it on a loop because playing it once or twice is never enough.
Aayi Mehndi Ki Ye Raat
Jawad Ahmed's Aayi Mehndi Ki Ye Raat was a chartbuster back in the days and you would still find it in every other Mehndi, as well as in the old CD shops.
Let's Nacho
If there's one song that gets the whole khaandan on its feet, it's this one. The song will lift your spirits, and will get the party started fast. Rock out to this upbeat song as no wedding is incomplete without this show-stopper tune.
Mehndi Hai Rachne Waali
This one song is the perfect introduction for your Mehndi playlist. Nothing can ever go wrong with this one song, be it any wedding function so if you haven't played it in a wedding at least thrice, are you even doing weddings right?
Saadi Gali
This song has been on the Mehndi playlists for quite long now and it's still going strong. A great song to get the wedding celebrations rolling!
Tunak tun
Throw your hands in the air and dance like no one is watching for this particular song because it's that good, honestly. It doesn't matter whether you are Punjabi or not, this song will surely make you shake a leg.
Mahi Ve
Mahi Ve is the perfect song to pamper your bride and flaunt the awesome person that your girl is. The song sets off at such a pace that it gives you enough margin to flaunt all your dance moves.
Punjabi Wedding Song
Throw your hands in the air and dance like Punjabis for this one. There's no such thing as too much bhangra. This one is not only fun, but it's exciting and equally catchy.
Balle Balle
Balle balle made its place as a quintessential Punjabi wedding song quite easily, thanks to the catchy beat, and easy steps. (And Mahira Khan, dare we say)
Gallan Goodiyan
This one goes without question, a tough song to dance to, but an insanely fun song to just groove, and not care about the world.
Banno Tera Swagger
What better than a Punjabi beat to get the wedding guests grooving, right? Banno Tera Swagger is the perfect song to let your bride feel loved on her big day.
Bandooq
You are missing out on quite a lot if this song isn't in your playlist. Put it there already as you won't find a better song to blast at Mehndis, parties, every occasion.
Hulara
Put your dancing shoes on for this song. It is so catchy, even the relatives that run away from the dance floor would be more than happy to oblige to your request for a dance on this Punjabi number.
Ambarsariya
One of the very few slow tunes of 2017 that you can never grow tired of. Not only does the song get the beats right, it has the perfect lyrics too. In short, you are lying if you say you don't want this song in your Mehndi playlist.
Maine Tumhari Gagar se
Now this song captured the hearts of all the brides, and their families alike when it was released all those years ago. This masterpiece is still winning hearts because of its beautiful tune and Alamgir's vocals.
Voila, now you have the perfect Mehndi Dance Songs List so give it to the DJ and dance away! What are your favorite Mehndi tunes? Let us know in the comments section. Cheers!

Leave your Thoughts @ Avvaaz
Related posts