An Ode to the Resilient, Nonchalant Lahore Qalandars Owner, Fawad Rana
Farhat Aziz, 3 years ago
4 min

read
Pakistan Super League is underway in all its glory, and whoa! What a roller coaster ride the third edition has been so far. With only over a week into the Third Edition, the fans have witnessed some crazy cricket matches so far.
We have seen some batting heroics (remember Sammy's spectacular show on one leg?), some woeful collapses (Nothing new for Lahore Qalandars), some incredible catches that made us stand up, and clap; we are looking at you, Denly, Shahid Afridi and other potential Jonty Rhodes, and we have seen some epic celebrations as well (Hasan Ali, we missed you, but a special mention to Imad Wasim as well; what were you trying to do there? No, please!)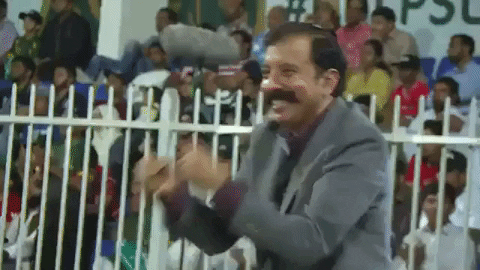 But what most people have been discussing lately is not the matches; rather it's the spirit Fawad Rana brings to the stadium during all the matches of Lahore Qalandars. Lahore Qalandars failed to yield any good results in the first two editions of the league, but unfortunately, the results of third edition are even worse, with Lahore yet to win a single match.
Despite being one of the biggest franchises of Pakistan Super League, Lahore Qalandars has failed to impress the audiences. But for Fawad Rana, it is beyond the business. For him, PSL is all about the revival of cricket in Pakistan, and supporting it with relentless enthusiasm.
"I am a Qalandar. Qalandars do not run for money. I still have faith in the team and management"
If you are following PSL religiously, you must have caught his face on camera, where he jumps in joy every time his team performs, and keeps the spirit of the game alive. Sometimes, he's seen on TV as a heartbroken owner, but it's only natural for a team owner whose team is having a hard time performing.
But like I said, for Fawad Rana, it's not about the business. Fawad Rana is the Managing Director of Qatar Lubricants co. (QALCO) a leading oil company of Qatar. To get the franchise ownership, he not only declared all his assets with FBR, but paid all his taxes to get the team.
Fawad Rana was among the first people to step forward and bring cricket back to Pakistan, despite the uncertain fate of the league. It wouldn't be unfair to say that he played a great role in making PSL to the degree of success where it stands today.
The Lahore franchise was sold to QALCO for USD $24 Million, making it the second most expensive team of the league after Karachi Kings. But that's not the only contribution of Fawad Rana to Pakistani cricket; the franchise also organized Jazz Rising Stars trials across different Pakistani cities to give a platform to the emerging players.
Fawad Rana has been more energetic than ever despite the disappointing results in the first two editions, but this time too, his high spirits let him down. Just like the first two editions of Pakistan Super League, the third edition has been a nightmare for Lahore Qalandars. But hey, at least we got some quality memes.
It doesn't matter which team are you rooting for, Fawad Rana won hearts of every Pakistani out there. Don't believe us? Check these tweets out yourself.
1. I mean, look at him!
FAWAD RANA DOES NOT DESERVE THIS, MY HEART IS SINKING … pic.twitter.com/xfp5O4325t

— Ahad Abbasi. (@ahadabbasii) February 24, 2018
2. His enthusiasm is a motivation to many out there!
FAWAD RANA
his relentless enthusiasm for Lahore qalandars and PSL, his emotions are displayed when lahore qalandars fall, he's a people's person, down to earth and the man having a sense of happiness and adventure. his expressions are louder than words. MASSIVE RESPECT FOR HIM pic.twitter.com/XyYbrQWGX0

— عُمر (@Keyb0ardMujahid) February 23, 2018
3. Jo baat hai!
You have to be dead inside to not feel bad for Fawad Rana. #PSL2018

— Qasim Nauman (@QasimNauman) February 24, 2018
4. The entire country agrees on this, I am sure.
FAWAD RANA IS THE ONLY BEST THING EVER HAPPENED TO LAHORE

— Umair (@wutdahack) February 23, 2018
Lahore Qalandars' team owner is love. pic.twitter.com/KHlcmnxtV4

— Ali. (@iPakistani10) February 4, 2017
5. Truer words have never been spoken!
NO MATTER WHICH TEAM YOU SUPPORT, YOU SIMPLY CAN'T HATE THIS MAN!! ❤😭#FawadRana #LahoreQalandars #PSL2018 #PSL3 pic.twitter.com/a4zQdMaSoz

— Joweria 👑 (@JoweriaMalik_) February 23, 2018
Fawad Rana is not just rooting for the team from the cricket stands, but he also contributed in the official anthem of the franchise as well. Yep, Fawad Rana wrote, composed, and sang the official anthem for the third edition that soon got viral on the internet.
Having finished last in the first two seasons, after losing the first five matches this season as well, the chances to qualify seem bleak but despite the results, the fans love, respect and cherish the Lahore Qalandars owner dearly. Good luck for the future matches, Fawad Rana, you truly make PSL special!

Leave your Thoughts @ Avvaaz
Related posts