A stadium brimmed with fans, flags flying high – remember the last time it happened in last eight years before PSL? Me, neither! Pakistani cricket fans have been deprived of international cricket for so long now that a lit up stadium, loud cheers of fans felt like a wild concept to our youth some time ago.
A PSL final in Gaddafi in such tough times seemed like a mere dream but sometimes, dreams do come true. Cricket came home for Pakistan!
In a historic event, Gaddafi Stadium hosted the international players after eight long years. And Pakistan is ready once again! The wait is almost over as the third edition of Pakistan Super League is all set to kick-off on February 22, 2018 in all its glory.
From so far what we know, the opening ceremony for the league that's concluding with the final match on March 25, 2018, is going to be held in Dubai with all the glitz and glamour while cricket will once again come home for the play-offs and the final.
It would be an absolute sight to see Karachi's roar for the Final as against Lahore's, hence the fans are absolutely thrilled for the Third edition.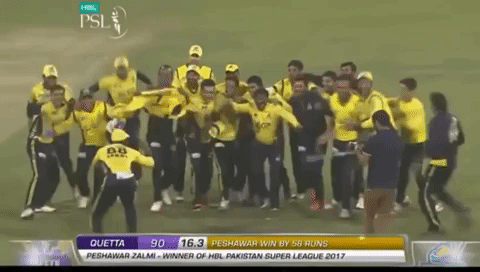 The PSL Schedule for 2018 edition has been released, and the fans would get to cheer for their team from February 22. All the matches are set to be played at 4 venues including Dubai, Sharjah, Lahore and Karachi, where the defending champions Peshawar Zalmi will take on the new entrants Multan Sultans in the first match.
PSL Schedule 2018
Here's the complete list of PSL fixtures for the 2018 Edition:
| Match | Date | PSL 2018 Fixtures | Venue | UAE Timings | Pakistan Timings |
| --- | --- | --- | --- | --- | --- |
| 1st T20 | Thursday, February 22, 2018 | Peshawar Zalmi vs Multan Sultans | Dubai International Cricket Stadium, Dubai | 21:00 | 22:00 |
| 2nd T20 | Friday, February 23, 2018 | Karachi Kings vs Quetta Gladiators | Dubai International Cricket Stadium, Dubai | 15:30 | 16:30 |
| 3rd T20 | Friday, February 23, 2018 | Multan Sultans vs Lahore Qalandars | Dubai International Cricket Stadium, Dubai | 20:00 | 21:00 |
| 4th T20 | Saturday, February 24, 2018 | Islamabad United vs Peshawar Zalmi | Dubai International Cricket Stadium, Dubai | 15:30 | 16:30 |
| 5th T20 | Saturday, February 24, 2018 | Quetta Gladiators vs Lahore Qalandars | Dubai International Cricket Stadium, Dubai | 20:00 | 21:00 |
| 6th T20 | Sunday, February 25, 2018 | Multan Sultans vs Islamabad United | Dubai International Cricket Stadium, Dubai | 15:30 | 16:30 |
| 7th T20 | Sunday, February 25, 2018 | Karachi Kings vs Peshawar Zalmi | Dubai International Cricket Stadium, Dubai | 20:00 | 21:00 |
| 8th T20 | Monday, February 26, 2018 | Karachi Kings vs Lahore Qalandars | Dubai International Cricket Stadium, Dubai | 20:00 | 21:00 |
| 9th T20 | Wednesday, February 28, 2018 | Islamabad United vs Quetta Gladiators | Sharjah Cricket Stadium, Sharjah | 20:00 | 21:00 |
| 10th T20 | Thursday, March 1, 2018 | Quetta Gladiators vs Peshawar Zalmi | Sharjah Cricket Stadium, Sharjah | 20:00 | 21:00 |
| 11th T20 | Friday, March 2, 2018 | Multan Sultans vs Karachi Kings | Sharjah Cricket Stadium, Sharjah | 15:30 | 16:30 |
| 12th T20 | Friday, March 2, 2018 | Lahore Qalandars vs Islamabad United | Sharjah Cricket Stadium, Sharjah | 20:00 | 21:00 |
| 13th T20 | Saturday, March 3, 2018 | Multan Sultans vs Quetta Gladiators | Sharjah Cricket Stadium, Sharjah | 15:30 | 16:30 |
| 14th T20 | Saturday, March 3, 2018 | Peshawar Zalmi vs Lahore Qalandars | Sharjah Cricket Stadium, Sharjah | 20:00 | 21:00 |
| 15th T20 | Sunday, March 4, 2018 | Islamabad United vs Karachi Kings | Sharjah Cricket Stadium, Sharjah | 20:00 | 21:00 |
| 16th T20 | Tuesday March 6, 2018 | Peshawar Zalmi vs Multan Sultans | Dubai International Cricket Stadium, Dubai | 20:00 | 21:00 |
| 17th T20 | Wednesday, March 7, 2018 | Multan Sultans vs Quetta Gladiators | Dubai International Cricket Stadium, Dubai | 20:00 | 21:00 |
| 18th T20 | Thursday, March 8, 2018 | Islamabad United vs Lahore Qalandars | Dubai International Cricket Stadium, Dubai | 15:30 | 16:30 |
| 19th T20 | Thursday, March 8, 2018 | Karachi Kings vs Quetta Gladiators | Dubai International Cricket Stadium, Dubai | 20:00 | 21:00 |
| 20th T20 | Friday, March 9, 2018 | Multan Sultans vs Lahore Qalandars | Dubai International Cricket Stadium, Dubai | 15:30 | 16:30 |
| 21st T20 | Friday, March 9, 2018 | Peshawar Zalmi vs Islamabad United | Dubai International Cricket Stadium, Dubai | 20:00 | 21:00 |
| 22nd T20 | Saturday, March 10, 2018 | Multan Sultans vs Karachi Kings | Dubai International Cricket Stadium, Dubai | 15:30 | 16:30 |
| 23rd T20 | Saturday, March 10, 2018 | Peshawar Zalmi vs Quetta Gladiators | Dubai International Cricket Stadium, Dubai | 20:00 | 21:00 |
| 24th T20 | Sunday, March 11, 2018 | Karachi Kings vs Lahore Qalandars | Dubai International Cricket Stadium, Dubai | 20:00 | 21:00 |
| 25th T20 | Tuesday, March 13, 2018 | Multan Sultans vs Islamabad United | Sharjah Cricket Stadium, Sharjah | 20:00 | 21:00 |
| 26th T20 | Wednesday, March 14, 2018 | Quetta Gladiators vs Lahore Qalandars | Sharjah Cricket Stadium, Sharjah | 20:00 | 21:00 |
| 27th T20 | Thursday, March 15, 2018 | Peshawar Zalmi vs Karachi Kings | Sharjah Cricket Stadium, Sharjah | 15:30 | 16:30 |
| 28th T20 | Thursday, March 15, 2018 | Quetta Gladiators vs Islamabad United | Sharjah Cricket Stadium, Sharjah | 20:00 | 21:00 |
| 29th T20 | Friday, March 16, 2018 | Peshawar Zalmi vs Lahore Qalandars | Sharjah Cricket Stadium, Sharjah | 15:30 | 16:30 |
| 30th T20 | Friday, March 16, 2018 | Islamabad United vs Karachi Kings | Sharjah Cricket Stadium, Sharjah | 20:00 | 21:00 |
| 1st Playoff | Sunday, March 18, 2018 | Qualifier – Team 1 vs Team 2 | Dubai International Cricket Stadium, Dubai | No info Available | No info Available |
| 2nd Playoff | Tuesday March 20, 2018 | Eliminator 1 – Team 3 vs Team 4 | Gaddafi Stadium Lahore, Pakistan | No info Available | No info Available |
| 3rd Playoff | Wednesday, March 21, 2018 | Eliminator 2 – Eliminator 1 Winner vs 1st Playoff Loser | Gaddafi Stadium Lahore, Pakistan | No info Available | No info Available |
| Finals | Sunday, March 25, 2018 | Final | National Stadium, Karachi | No info Available | No info Available |
| | | | | | |
Image Source : Tribune PK

Leave your Thoughts @ Avvaaz
Related posts